CUSTOM HINGES
We have more than 80 years experience plus the design expertise and manufacturing capability to produce custom hinges for demanding applications.
The high cost of initial tooling has been the drawback to producing custom hinges by traditional methods. We have invested in state of the art manufacturing equipment which overcomes this problem. This means that high quality custom hinges can be produced quickly with minimum, and in some cases, no tooling costs.
If you have a technical query we will be glad to help. If you're working on a new product and you need a hinge that can't be sourced from our standard range talk to our technical department. They will be glad to advise you on the right solution and help you develop a product that's right for the job.
We work closely with research and development teams to get the right hinge to suit your application.
Our highly skilled team with state of the art manufacturing methods, produce quality hinges you can rely on.
The gallery below shows just a few examples of our custom capabilities.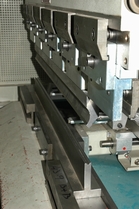 ADDRESS
Tallon Road, Brentwood
Essex CM13 1TP